Gallagher Bassett partners with insurers worldwide to deliver best-practice claims management solutions for all lines of insurance.
Find the opportunities to outpace your competition, enhance your brand and improve your financial outcomes with our cutting-edge technology solutions and team of insurance experts, ready to support you when you need it most.
Download our Global Insurer Industry Whitepaper
THE ROAD AHEAD: AN INSIGHT INTO THE INSURANCE INDUSTRY IN 2023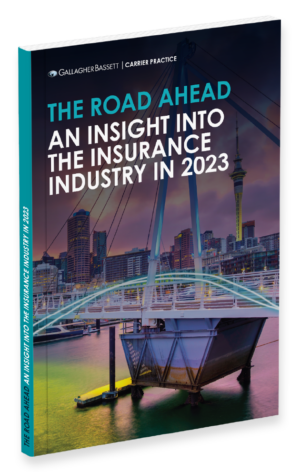 Experts In Claims Management Since 1962
Through deep expertise, innovative solutions and cutting-edge technology, GB partners with leading carriers to implement claims programs tailored to their respective business goals and find opportunities for growth.
GB fosters strong partnerships with insurance carriers to ensure outsourced claims management provides unique value. You can rely on GB to deliver:

with a focus on lower loss costs, higher-quality claims management and reduced portfolio liabilities to improve your economic value proposition

that manages performance throughout the claim life cycle

Exceptional customer service
our team of on-shore claim professionals are service-focused, enhance your brand and protect your reputation

Flexibility and scalability
respond to major events and new opportunities

white labelling capabilities to maintain your company's integrity across all lines of insurance
Dedicated Carrier Practice
With a dedicated carrier service model, GB has the expertise to help you execute your business plan for the future and ensure you are prepared for potential disruptions.
Our GB Carrier Practice team is able to deliver customised solutions to suit your claim management needs across the following classes:










Interested in how Gallagher Bassett can help you find the next big opportunity?
Get in touch with us today to find out more, and discover how we can help you achieve your strategic goals.
A global outlook on Gallagher Bassett's activity for our insurer clients in the last financial year alone (FY19/20):
Want to find out what Gallagher Bassett has worked on globally?
Keep your finger on the pulse of the latest industry news and insights.
Sign up to our monthly newsletter today.